Momos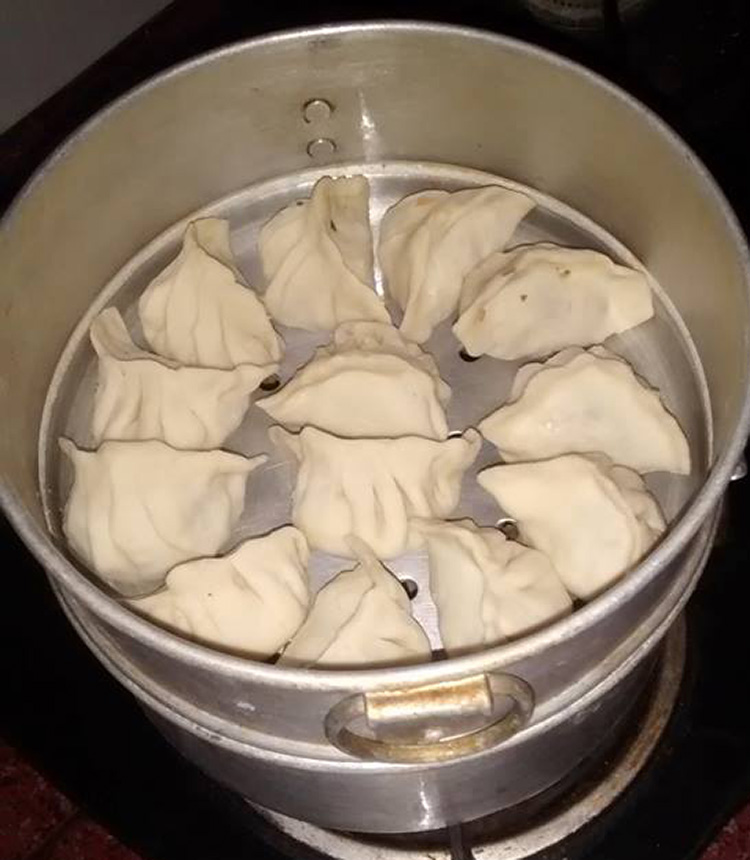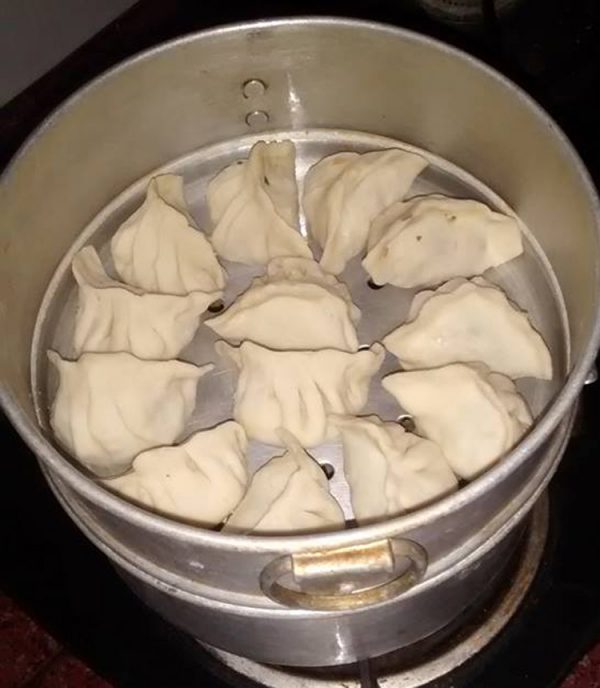 | | |
| --- | --- |
| | |
Mix the flour and salt well.

Add butter and knead into a soft dough using just enough water.

Cover with a wet cloth and keep aside.
Heat the peanuts on a dry pan, and then peel them.

Heat butter on a wok and roughly cook the chopped tomatoes, spring onion, green chillies, garlic, and ginger for 2 minutes on a high heat.

Remove the pan from the heat and add the peanuts, salt, szechuan pepper and red chilli powder and grind mixture into a semi-smooth paste in your food processor / mixer.

Add finely-chopped coriander leaves, lemon juice, and mix together well.
Finely chop the spring onion, coriander leaves, green chillies and french beans.

Grate the cabbage, carrot and cheese.

Boil the soya nuggets, squeeze to drain water and cut into small pieces.

Put all of these ingredients into a big bowl.

Add the ginger, onion and garlic paste.

Add garam masala, red chilli powder and salt to taste.

Heat the butter on a wok and fry the garlic and red chilli pieces until brown, then add them to the filling mixture above and mix thoroughly.
First divide the dough into 4 equal parts and use a rolling pin to roll out each part into a thin layer of dough that is 5 – 6 inches in diameter.

Then using the rim of a glass, cut out circular wrappers.

Take a wrapper and depending on the size of the wrapper, put 1 tsp or ½ tsp of filling into the centre of the wrapper.

Now carefully create folds and seal the wrapper. You can shape the dumplings any way you like.

Apply oil or butter to the surface and sides of the steamer, so that the dumplings don't stick due to heat.

Arrange the dumplings side by side, such that one doesn't touch another.

Set the steamer above a vessel of boiling water, and cook covered for 15 minutes.

Serve Momos hot with the sauce!