Dolma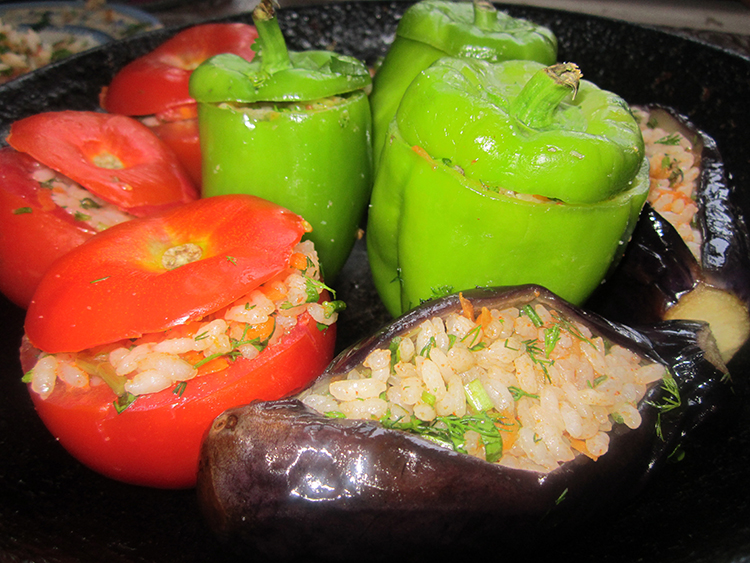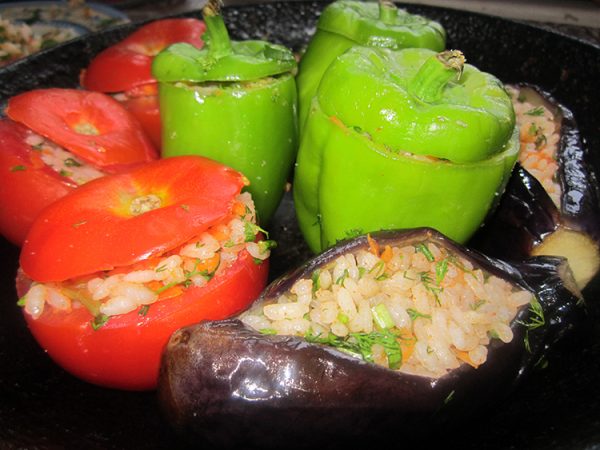 | | |
| --- | --- |
| | |
Soak rice, finely cut the greens, and keep aside.

Remove the stalk of the aubergine and make a cut ¾ so that aubergine is still intact (see picture).

Fill a saucepan with water and bring to a boil. As the water begins to boil, add salt and place the cut aubergines in water for 4 to 5 minutes.

When the aubergines become soft, remove from the pan, allow to cool and then carefully hollow out the flesh using a teaspoon, leaving a shell about 5mm thick.

Cut the top off the pepper, leaving the stalk intact and remove the seeds (see picture).

Do the same with tomatoes and carefully scoop the pulp out with a teaspoon or a little knife and gather it in a separate bowl. The vegetables are ready to be stuffed.

To make stuffing, cook the rice in water (adding salt) for 5 or 6 minutes.

Add some oil in a pan and fry the optional pine nuts and onions until they are brown.

Add the leftover tomato pulp and extra half of a finely cut tomato, some of the herbs and stew for a few minutes.

Add the cooked rice, spices (turmeric, pepper, ginger, Indian spices if desired and salt to taste), and cover with a lid for 1 or 2 minutes.

As the liquid begins to evaporate, add the greens (dill, basil & mint), carrots, and cabbage and mix well.

Fill the vegetables with the stuffing using a teaspoon and tightly put them into the base of a wide pan so they can stay upright.

Drizzle some olive oil and pour enough warm water to fill the pan 2-3 cm up the side of the vegetables.

Cover with a lid and put the pan onto a low to medium heat for about 20 to 30 minutes.

Serve with natural yogurt.