Chocolate Alfajores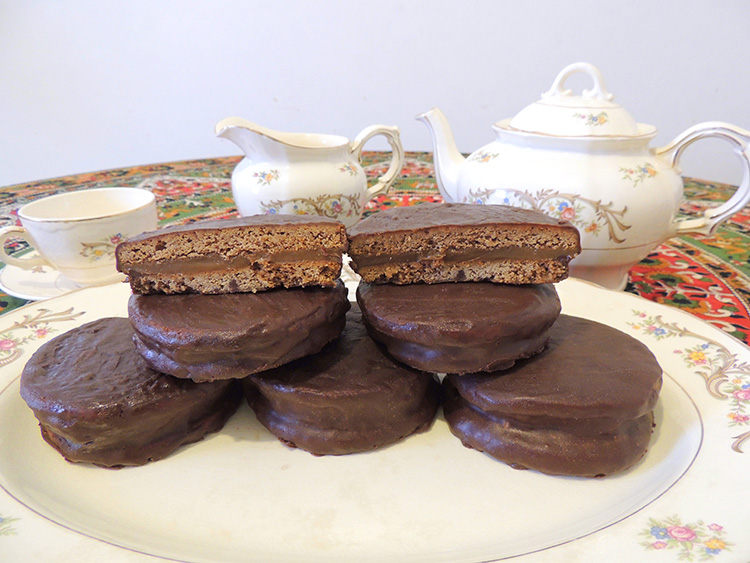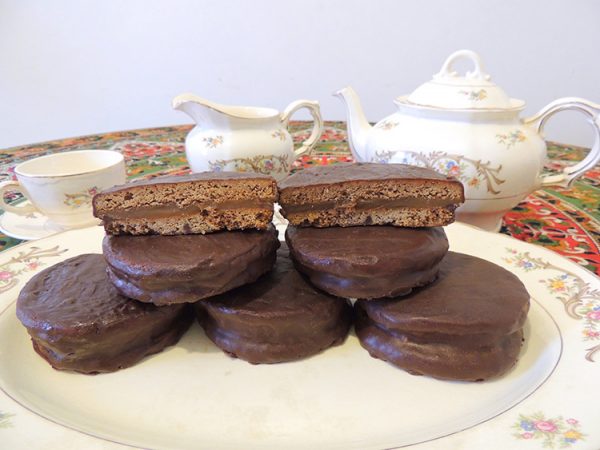 Whisk the butter with the sugar until the sugar has been mixed evenly. Then add the vanilla extract and honey.

Dissolve the bicarbonate and baking soda in water and add this to the butter mixture.

Sift the flour, cocoa, and cornstarch separately in a bowl.

Pour the dry ingredients into butter mixture and knead it to prepare dough.

Wrap in a plastic wrap and chill in the refrigerator (for at least one hour and up to 48 hours).

Roll out the dough 5 mm thick and cut discs 6 cm in diameter.

Place them on a tray with greaseproof paper or butter.

Bake at 170 °C for 12 to 15 minutes.

Once baked, allow the cookies to cool then take half the batch and spread them on a tray.

Spread half the cookies on the less smooth side with 2 heaped tablespoons of dulce de leche (recipe below) or jam.

Cover with the remaining cookies to form a cookie sandwich. Melt butter in a bain marie (a pan of hot water in which a cooking container is placed for slow cooking.)

Then add the chopped chocolate and melt together. Stir with a rubber spatula until chocolate is smooth and then remove from the heat.

Coat the alfajores (cookies) with the hot chocolate and let it drip through a rack.

Leave the cookies to set for 48 hours before eating.
Mix warm milk with sugar in a pot.

Add vanilla and baking soda after the first boil.

Remove the pot from the heat, stir constantly with a wooden spoon to avoid lumps at the base.

Return to a low heat for 3 hours, until mixture becomes thick and brown. This process will take time and requires patience, but if you want, you can put 3 glass beads on the bottom of the pot to prevent sticking and make lumps in the preparation.

To test if the milk caramel is ready, put a little on a plate and if it sticks to your finger, it is ready!

Refrigerate for a few hours before using it.