Kutaby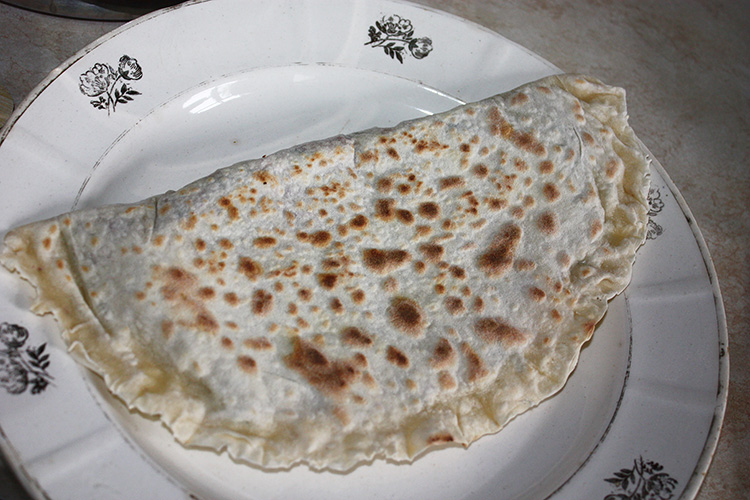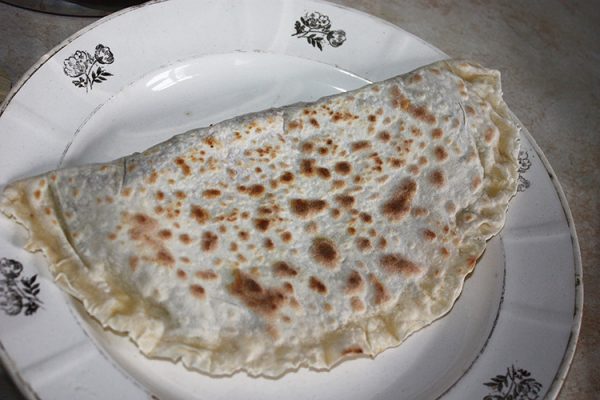 | | |
| --- | --- |
| | |
Sift all the flour into a bowl and add in the salt.

Pour room temperature water and oil into the flour and knead the dough so that it is not too stiff.

Cover it with a cloth and let it rest for 30 minutes.

Meanwhile cut the variety of greenery finely, removing the stiff stalks.

When the dough is ready, divide it into 15 – 18 parts.

Roll every piece on a flour-dusted panel into a thin (nearly transparent) flat pancake.

Keep the rolled cakes under a thick cloth or a plastic sheet to prevent them from drying up.

Put a dry frying pan with a thick bottom on the stove to heat up.

Put some stuffing on half of the pancake, salt a bit to taste and then cover it with the other half of the pancake, thoroughly pinching the edges.

The stuffing should be evenly spread all over the kutaby (pancake) and the edges should be very thin. (Extra dough may be cut off).

Fry the kutaby on a dry well-heated frying pan for about 1 and a half minutes on either side.

When ready smear the kutaby with butter and serve hot or warm (dusted with sumac if desired).